Gyms are for those, who love to exercise and keep their body fit. Going to gym regularly gives your body an extra boost of energy that your body needs each day. While you workout in a gym, you sweat and this is very healthy.
Why do most of the people go to gyms? Most of the time, it is to burn the extra calories that the body has gained. While you exercise, you burn calories and start to sweat. The more you workout the more vigorously you sweat.
So the fact is " If you want to stay fit you will have to exercise and sweat".
This is the positive side of sweat or perspiration. Now let's see its negative side. Everyday in gyms more than 100 people go to workout. Everyone of them perspires vigorously. Different gym equipment, from machineries to mats, all are drenched in sweat. This is very unhealthy and unhygienic also.
It is true that gyms clean their machines but not after every single use. Cleaning the gym equipment before and after a workout is must. Sweats can carry germs and one person's sweats can spread germs through equipment used in gyms. These germs can spread infections as well. Warm and moist places are the breeding ground of germs and viruses. If you ask me, I don't know a better warm and moist place than gym. So gym is the best place for viruses to grow and spread diseases. Maintaining a minimum hygiene level in the gyms is must.
Here are few tips that you can follow to keep the gym equipment cleaned and hygienic after every single use:
1. Borax Solution:
Make a solution of borax and lemon juice both distributed as two tablespoon and one quarter cup respectively. Keep this solution in a bottle and shake well before use. Keep this solution with each equipment and ask your customers to use it after usage. Every time they use a machine, they should clean it off with this solution. This process will keep the gym equipment clean and hygienic.
2. Wipes:
You should use gym equipment wipes that have disinfectant and anti bacterial quality in it. If you do not want to use the spray bottles or solutions, then, it would be better to use these gym wipes. Since these wipes have anti bacterial capability, they can easily clean off all the germs and viruses on the machines.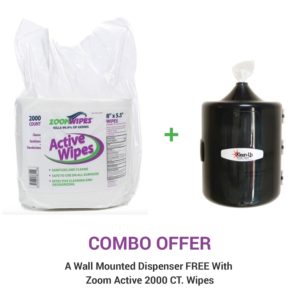 An exciting combo offer  where you will be getting Wall Mounted Dispenser free w/ Zoom Active Gym wipes Only at $47.99 from Amazon Store.

3. Spray Bottles:
Many gyms have spray bottles that they offer to clean the gym equipment after every use. The spray bottles contain ammonia solution or a kind of cleaning agent in it. You do not need to be a skilled cleaner to use these bottles. Just spray them on the equipment and the work is done. It takes nothing to maintain hygiene but it takes a lot when you fall sick. So, better maintain hygiene in the gyms so that you do not fall sick.
4. Vinegar Water:
This is a good way to clean gym equipment and it doesn't even harm your health anyway. Mix equal quantity of water and white vinegar into a spray bottle and keep it by the side of your equipment to make the users apply it after their usage. After every workout, the equipment should be cleaned by spraying the solution on the machines. But when you use vinegar solution, you must remember that it might produce corrosion. To prevent corrosion, always wipe the equipment well with wipes.
5. Towels: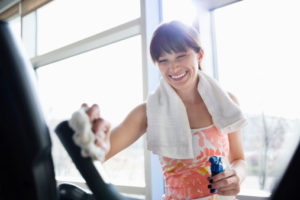 Yes, towels do not kill the bacterias but they can wipe away the sweat well from the body. Now when you bring towel for your clients, also bring an extra towel to clean off the equipment after and before every use. This will help you to promote proper personal hygiene.
Summing up:
After every single use of the gym equipment, you must always clean up the machines to keep the overall environment of you gym hygienic and healthy. Maintaining the hygiene in a gym is a necessity because you would never like deadly bacteria and viruses affecting the health of your clients and the reputation of your establishment.
Save
Find out why everyone is talking about Synergy Fitness Product